Written by Garrett Seelinger, InCred
At the 2019 TAICEP Annual Conference in Vancouver, Janine Pacheco joined other attendees for the opportunity to participate in a night of service that was organized as an optional addition to the conference, connecting the participants to a local non-profit and issues that affect the international identity of the city.
Cabs were coordinated by Wendy Joyce from TAICEP's Conference Planning Committee to take Janine and the other participants to VAST, a refugee assistance non-profit in Vancouver. The charitable non-profit is focused on helping people who have recently arrived in Vancouver, whether they just flew into the city or they simply show up on the doorstep of the organization.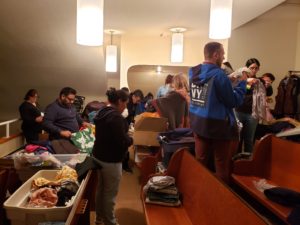 As an overview of just some of their services, VAST helps with job placement, bus passes, other assistance with transportation. They provide counseling for a lot of different experiences, both individual and in a group, trauma-related and as part of the job placement work. They have programs for kids. They provide temporary housing and clothing for people who live in that housing. They also have a food bank and a clothing bank that provide for people who live off-site.
After a tour of the four-floor building led by Frank Cohen, including the classroom and play area for the kids, where participants met people who were part of VAST's programming, they went to a neighboring church, in which an upper balcony was used to store clothing, dishes, and food, and they help organize and categorize.
Some VAST program participants came and spoke with Janine and the other volunteers from the TAICEP Conference, including Central and South Americans who had given up on achieving asylum status in the United States before arriving in Vancouver. A former teacher in Mexico had fled persecution related to his sexual orientation. He didn't know the language and felt uprooted without a home and cut off from his former life as a teacher. There was another couple from Mexico that helped with sorting the clothes and food. They had two kids, ages four and six.
The experience put a human face on the work we do as credential evaluators, especially talking to people who couldn't bring all of their documents with them. Everyone thought it was a great way to spend the evening, to give back, generally had positive things to say about it. The plan is for future conferences to have similar service opportunities, where participants need only be willing and open minded. Janine noted that it's a great addition to the conference because it was a special view into the community there. Even if Vancouver is a nice beautiful city, it was nice to connect with the community and do something positive.
In this Edition:
Coronavirus and Credential Evaluation: Challenges and Opportunities -April 2020 Newsletter
Innovating the Old World: A Sampling of Digitization in Asia and Europe -April 2020 Newsletter
Secondary Credentials with Undergraduate Credits -April 2020 Newsletter
Conference Night of Service with Janine -April 2020 Newsletter
Alternative Grading -April 2020 Newsletter
Interpreting the Numerical GCSE Grades -April 2020 Newsletter