TAICEP has created a community from around the world of international credential evaluation professionals (ICEPs) and those who support their endeavors. Our members freely exchange ideas and resources for the betterment of their profession and for recognition among peers of their important position in furthering international education and knowledge exchange, confident that other members subscribe to this same thought platform.
TAICEP members receive exclusive member benefits including:
TAICEP Email Group ("Gaggle")
We evaluate credentials every day, and we have frequent questions about these credentials and credential evaluation policies and procedures. It isn't always easy (or is impossible) to converse with others in your organization for problem solving. However, with TAICEP membership, you will gain access to hundreds of professionals across the globe by becoming part of our email group. Here is just a small sample of the hundreds of questions that have been asked and answered by TAICEP members.
"Hello! I am new to verifying documents and received my first one from

China

today. Does anyone have any advice on where I can go to verify this document? Website or contact person?"
"I am in the process of evaluating a refugee student from

Afghanistan

and having a difficult time identifying the school and its accreditation. Attached is a transcript listed as Dar-ul-Muallimin Private of Abu Musa in Kabul City. The translation mentions the Ministry of Education but given the situation in Afghanistan resources have been difficult to determine the accreditation. The student also mentioned Maiwand institute of Higher Ed on their application, would these institutions be the same? If not, does anyone know if both are accredited, and if so, what year accreditation was granted?"
"I am trying to determine recognition/accreditation for Institute Superieur de L'Afrique de L'Ouest/British University

Benin

but have been unsuccessful in finding it on the ministry website or in previous lists that have been provided from other TAICEP members. I am wondering if anyone is familiar with this institution and the status of their accreditation. Thank you for your help!"
"Attached is a diploma that's probably fine…there's some UV, the underlines say

ATTECTAT

, but at the same time, the body has a pretty cartoony typesetting that appears to be taking a bumpy ride down a country road. Any advice or comparisons?"
TAICEP Conferences
If you haven't experienced a TAICEP conference, you are missing out on a major opportunity for networking, learning, and professional development. There are dozens of sessions and workshops solely focused on credential evaluation. You are in a tight-knit community that particularly understands your needs. The wealth of information and human resources you encounter is nothing short of amazing! TAICEP members receive a significant conference registration fee discount. Please watch what one conference attendee has to say about attending TAICEP conferences.
TAICEP Webinar Library
TAICEP is developing an extensive collection of past webinar and conference video recordings. Here are just a few examples of the recording titles available to members at no additional cost.
2022 Conference: Overview of the Education System in Lebanon

2022 Conference: Navigating the Maze of Theological Education Around the World

2022 Conference: Haggis and Tortillas: A Match Made in Glasgow – An Update on Central America,

2022: TAYD: PRC – Recent Changes to the Chinese Credential Authentication Process recording, Chat, Slides, App Demo
2022: TAYD: Russia – The Past is the Future recording, Presentation Slides, Chat
2022: TAYD: The Educational System of Poland, Presentation Slides, Chat
2022: TAYD: Update on Ukraine: Ukrainian Credentials, Ukraine PPT for TAICEP, Chat
TAICEP Digital Document Provider Resource
TAICEP's Digital Document Provider resource is an online tool specifically for credential evaluators that has student educational record verification and document issuer information. The project was a collaboration among international education agencies and credential evaluation professionals to create a web-enabled, self-service, one-stop source of trusted document and verification providers around the world. Specifically, this "map" of providers includes information about accessible content by country, institution, and provider; source website URLs, how information is accessed, who gives permission to share information, what language the information is in, and whether the source is trusted.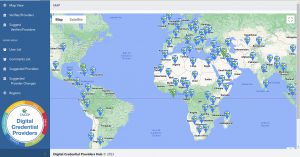 Verification Sources for Educational Documents
This exciting resource allows members to verify the authenticity of documents submitted for evaluation. It helps in our fight against fraudulent documents while preserving the integrity of all parts involved, the institutions issuing the documents, the agencies conducting the evaluations, and the institutions receiving the evaluations. This extensive resource is exclusively available to TAICEP members. Examples of the thousands of entries in this database are:
Country

Level

Institution/Authority

Websites, Emails or Other Contact Sources

Notes

Physical Address

F7

F8

F9

F10

UKRAINE

Secondary

Inforesurs: Register of Academic Documents

https://info.edbo.gov.ua/edu-documents/

includes academic and vocational basic and secondary education diplomas since 2000

UKRAINE

Post Secondary

Inforesurs: Register of Academic Documents

https://info.edbo.gov.ua/edu-documents/

includes all higher education diplomas since 2000

UKRAINE

Post Secondary

Ministry of Education of Ukraine

ministry@mon.gov.ua, or antonuk@enic.in.ua

10 Peremohy Street, Kyiv, Ukraine 01135

UKRAINE

Post Secondary

University of Banking of the National Bank of Ukraine, Cherkasy Institute of Banking

ubs@ubs.gov.ua, or and cibs@cibs.ck.ua

Andriivska Str., 1, Kyviv, Ukraine 04070

UKRAINE

Post Secondary

Cherkasy State Technological University

chdtu-cherkasy@ukr.net

460 Shevchenko Blvd., Charkasy 18006, Ukraine

UKRAINE

Post Secondary

Donetsk National University

study_in@donnu.edu.ua

600-Richchya St, 21, Vinnytsia, Vinnyts'ka oblast, Ukraine, 21000

UKRAINE

Post Secondary

University of Banking of the National Bank of Ukraine

ubs@ubs.gov.ua

1 Andriivska Str., Kyviv, 04070 Ukraine

UKRAINE

Post Secondary

Tenopil National Economic University

tneu_z.v@ukr.net

UKRAINE

Post Secondary

National Metallurgical Academy of Ukraine

nmetau@nmetau.edu.ua and canc@metal.nmetau.edu.ua

UKRAINE

Post Secondary

Kharkiv State Pedagogical University

root@hnpu.edu.ua
Global Directory of National Qualification Frameworks
A national qualification framework (NQF) is a systematic ladder of qualifications in a country's education system. NQFs vary considerably as some only include information about a country's higher education system while others include the whole range of the educational system. A qualification framework (QF) is also called a transparency tool because it assists evaluators in understanding where a certain qualification is placed in the country's educational system, such as the level of the qualification or access granted to further education or employment. QFs also help explain how the qualifications included relate to one another. Click Here for A Preview!
Discounts Offered by Other Organizations to TAICEP Members
Get great discounts on ECE Connection Advantage and AACRAO EDGE! Click HERE for more information.
Certificate Program
TAICEP offers the Foundation Certificate in International Credential Evaluation, Secondary School Certificate, and the Bologna Process Certificate to members are very reasonable prices. Click HERE for more information.
And so much more! Click here to become a TAICEP member today!
______________
Small Print: By becoming a member, an individual subscribes to the critical constructs of TAICEP's vision, mission, values, and goals as well as the TAICEP Membership Criteria and Statement of Ethics for a Credential Evaluation Professional.