Written by Garrett Seelinger, InCred
If you work regularly with GPA conversion for GCSEs, you'll know that a new numerical scale has been phased in, starting in 2017. The official statements of comparability from exam authorities look like this table from Ofqual below.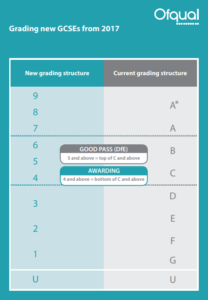 Some problems of interpretation became immediately obvious when this 1-through-9 grading scale was released. Is an 8 more A or A*? Is a 5 more of a B or a C? If you consider the E and F grade to be significantly different, how would you see that different in the new grading structure? It was apparent to me that the lettered and numbered grading scales were not going to fit neatly over each other, so a little more research was needed.
The discrepancy is caused by the way that they describe the numbered grades in terms of passes and how the students progress past GCSEs. In a quote for Ofqual, Glenys Stacey said that "broadly the same proportion of students will get 4 and above as currently get C and above." However, that does not mean that a 1, 2, or 3 will be treated the same as a D, E, F, or G are treated.
"Grade 4 will be known as a 'standard pass'. Grade 5 will be known as a 'strong pass' and will be equivalent to a high C and low B on the old grading system. Grade 4 will remain the level that students must achieve without needing to resit English and Maths post-16" (quoted from the AQA website, using information from Ofqual).
The "4" grade is considered the lowest "standard pass", so at InCred, we have taken the approach that it is comparable to a U.S. 'C' grade (the lowest standard pass). We count the 1, 2, and 3 grades as U.S. 'D' grades (or a 'conceded pass') because the certificate is earned:
GCSE grade: U.S. grade:
| | |
| --- | --- |
| A, A* (7-9) | A |
| B, C (5-6) | B |
| D, E (4) | C |
| F, G (1,2,3) | D |
| H, U | F |
This interpretation presents the problem of not taking the specific advice from exam boards and Ofqual, but our decision at InCred was to prioritize the most current information rather than forcing our old GPA conversion to fit into a new system.
In this Edition:
Coronavirus and Credential Evaluation: Challenges and Opportunities -April 2020 Newsletter
Innovating the Old World: A Sampling of Digitization in Asia and Europe -April 2020 Newsletter
Secondary Credentials with Undergraduate Credits -April 2020 Newsletter
Conference Night of Service with Janine -April 2020 Newsletter
Alternative Grading -April 2020 Newsletter
Interpreting the Numerical GCSE Grades -April 2020 Newsletter