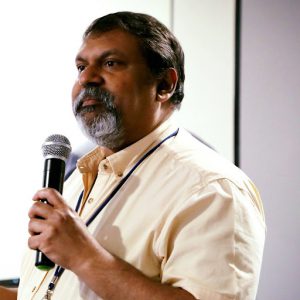 More than 20 years of experience in program development and management

Established the verifications unit at the South African Qualifications Authority

Volunteer leadership positions with the Groningen Declaration Network, the African Qualifications Verification Network, and TAICEP (incoming chair-elect of the Committee for Membership Outreach and Engagement)

A citizen of India and resident of South Africa and Canada currently living in Pretoria, South Africa, with his Canadian partner and 8 "fur kids"
CV/Resume
Profile
An international development professional with over twenty years of experience in programme development and management in the education, livelihoods, health, gender, forestry, and social development sectors. Work experience in countries in Southern and West Africa as well as South Asia. My demonstrated skills include working and consulting in an international, multicultural setting for international/national development agencies and governments. I have demonstrated experience in initiating start-up projects. I am also skilled in project management, especially in participatory research, project coordination and monitoring & evaluation. I am an experienced relationship builder with constituents, including donors, government bodies, global networks, civil society partners, and stakeholders. Ability to connect, influence, negotiate and collaborate. Accomplished cross-cultural facilitator and experienced in shared-learning techniques. Excellent oral and written skills in English and Hindi. Independent, confident self-starter and team – player. Intellectually curious high achiever. Enthusiastic about building effective relationships with diverse people.
Nationality
Indian and permanent resident of Canada & South Africa
Key Accomplishments
I am currently working for the South African Qualifications Authority (SAQA), a parastatal of the Department of Higher Education & Training (DHET). I manage new business and international stakeholder relationships.

In the last few years, I have led the verification function in the Foreign Qualifications Evaluation Directorate of the SAQA. The Directorate evaluates around 26,000 qualifications from more than 100 countries each year.




Currently, I am the African Qualifications Verification Network (AQVN) secretary and actively engage in the Southern African Development Community (SADC) on higher education matters.




Successfully convened a verification related international seminar in Pretoria in 2014. This seminar brought in delegates from 14 countries. An essential outcome of the symposium has been creating an African Qualifications Verification Network (AQVN) and signing a Service Level Agreement (SLA) among various participating countries.




Currently, I head a UNESCO project on assistance to refugees and asylum seekers to have their qualifications evaluated in South Africa.

I managed social development and humanitarian aid programmes in Southern Africa (Malawi, Zambia, Mozambique, and South Africa) for Oxfam. It entailed managing grant funding of over a million US dollars per year for each of the above countries.

I distanced managed social development programmes targeting education and youth in Mozambique, Zambia, and Malawi. I led a basic education programme in Mozambique that provided bursaries to young girls to gain employment skills. I have managed social development programmes in Zambia, especially HIV and AIDS awareness targeting youth in villages in its southern province. I have also distance managed social development programmes in Malawi that target youth.




I coordinated a global action research project to assess the status of civil society in over sixty countries. Specific focus on Asia – Pacific region (India, Bangladesh, China, Nepal, Indonesia, East Timor, Mongolia, Hong Kong, South Korea, Fiji, Taiwan, Vietnam) and Africa (Gambia, Ghana, Nigeria, Sierra Leone, Malawi, Uganda). This work contributed to the development of an innovative assessment tool used globally by civil society.




Planned and led monitoring and evaluation missions for large-scale multilateral and bilateral projects in India's health, education, forestry, and social development sectors. These include agencies such as USAID, World Bank, Cordaid and the Karl Kuebel Foundation. The recommendations led to several significant changes in the design and implementation of new projects.

I have developed research proposals for projects and consulting bids, delivering presentations to prospective organisations and the government to win project contracts. Also, negotiated with donors and the government on the implementation of large-scale programmes and projects.

I designed and implemented action research projects. Undertook several community research projects, experimenting with participatory methodology and approaches. I also developed and incorporated participatory methods in various development interventions. It entailed qualitative as well as internet-based research on several issues. Published and reviewed professional papers.




I have delivered formal lectures for graduate and undergraduate students in India and Canada on project management in the development sector. I have taken the lead in designing and managing training programmes for non-profit and community-based organisations in various countries.




I have also played a vital role in establishing and managing a Centre for Participatory Development in India. The Centre supports and builds capacities of small and medium scale non-profit organisations. Recruited, trained, and developed a strong multi-disciplinary team and initiated and implemented short- and long-term plans for the Centre.




I undertook a crucial role in the establishment of Oxfam Hong Kong presence in southern Africa.

Also, I was instrumental in the establishment of the CIVICUS Gender Equality Policy in 2005.

Played a crucial role in raising issues of LGBTI rights within Oxfam. It led to Oxfam developing a policy addressing human resource issues about minorities, including LGBTI staff. Also, founder and Chair of the Oxfam LGBTI Group. 2011.
Education (Evaluated by SAQA)
Leadership and lifelong learning course (60 Credits, Short Course, 2013)




The University of the Western Cape

(Received the highest mark)

Master of Science (Econ.) in Development Management (1999 – 2000)




Centre for Development Studies, University of Wales

(Scholarship by the British Council)

Master of Arts Sociology (1990 – 1992)




Department of Sociology, Delhi School of Economics, University of Delhi

(Scholarship by University of Delhi)

Bachelor of Arts (Hons.) Sociology (1987 – 1990)




Department of Sociology, the University of Delhi

(Received the highest mark)
Career History
South African Qualifications Authority

(2021 +)




Manager: Business Development & Stakeholders

South African Qualifications Authority

(2012 – 2021)




Deputy Director: Foreign Qualification Verification

OXFAM Hong Kong

(2006 – 2012)




Regional Programme Coordinator/Acting Associate Country Director Zambia

CIVICUS: World Alliance for Citizen Participation

, South Africa (2003 – 2006)




Senior Project Officer

AIDS Resource Centre

, Canada (2002 – 2003)




Information Coordinator

Department for International Development (DFID)

, India (1999-2001)




Professional Officer

Samarthan-Centre for Development Support

, India (1996-1999)




Centre Coordinator-Participatory Development

Indo-Dutch Bilateral Program in Rural Water Supply and Sanitation

, India (1994-1996)




Social Scientist
Publications & Presentations
We must prevent a modern-day holocaust. (

http://www.comminit.com/policy-blogs/content/we-must-prevent-modern-day-holocaust

)




Silence and Stigma: Discrimination against sexual minorities: Oxfam Hong Kong Publication. 2011. (

http://issuu.com/oxfamhongkong/docs/oneapr11

)




HIV and AIDS and Side Effects: Oxfam Hong Kong Publication. 2009




Income or health: Can HIV Patients have both? Oxfam Hong Kong Publication. 2008




HIV and AIDS in Zambia: People need information, not censorship. Oxfam Hong Kong Publication. 2007




Making Education Happen in Mozambique. Oxfam Hong Kong Publication. 2007.




Civil Society Index: An Assessment Tool for Civil Society. Inside ISTR. Vol. 11/No.3. July – September 2003 (with Volkhart Heinrich). The International Third Sector Research




Stakeholder Analysis: The Women's and Children's Health Project in India. Technical report 13. Partnership for Health Reform. Maryland and Harvard School of Public Health. The USA. (With Yogesh Kumar and Nabarun Roychoudhary. 1997). (

http://www.healthsystems2020.org/content/resource/detail/1351/

)




This publication is required reading for the course "Health problems, Policies and Practices in the Developing World" at the Paul H. Nitze School of Advanced International Studies situated in the Johns Hopkins University




A Study on the perception of the sale of Needles and Syringes by Pharmacies in Kelowna. AIDS Resource Centre. British Columbia. Canada. 2002.




Referenced in

"Hepatitis 101" Resource Toolkit. 2002




Women in Panchayats in Madhya Pradesh: Study undertaken for Action Aid, India. 1997




Narrative Analysis: A Book review in Participation and Governance, Vol. 5 No. 11 Participatory Research in Asia, India. 1998




On parallel Roads: Community-based organisations and Local Self-Governance. Participation and Governance, Vol. 8. Participatory Research in Asia, India. 1998




A Study of project interventions among males who have sex with males in India. Master's Dissertation, University of Wales, UK. 1999 – 2000




Mid-term Evaluation of VRDP and EcoDevelopment Program in Madhya Pradesh, India. (1998). Submitted to the Government of Madhya Pradesh and World Bank




Final evaluation of the PVOH-II Reproductive Health project, India. (1996-1997). USAID. Submitted to USAID and Government of India




Monitoring Participation in the District Primary Education Program, Madhya Pradesh, India (1997-1998). Submitted to Government of Madhya Pradesh and PRIA.

The lessons were shared at an International Conference on 'Upscaling and Mainstreaming Participation of Primary Stakeholders: Lessons Learned and Ways Forward' organised at Preston Auditorium, Washington, 1998.
Photos