Shereen Mir-Jabbar recently traveled to Lebanon for a volunteer opportunity through Islamic Relief Canada. The INSPIRE Volunteer Abroad Program connected a group of volunteers from Canada with various projects in Lebanon over the course of the ten-day trip, which was focused on support for Syrian refugee families.
A significant portion of the trip was dedicated to morning visits to a Youth Resolve project center, run by Islamic Relief Lebanon and the EU in the city of Sidon, and afternoon visits to a shelter for widows and orphans.
The Youth Resolve project center is for 7-to-15-year-old students with programming designed to supplement their school curricula. Much of the focus is on psychosocial support, which involves activities designed to help with mental health, including interactive learning such as problem-solving games for groups of similarly aged students. Volunteers participated in interactive learning activities but also engaged in outreach around the city to families who may not know that the services are available for free to their children.
During afternoon visits to the shelter for widows and orphans, volunteers scraped down the walls and repainted the interior, long hours of work with frequent interruptions from the children who live there. Shereen noted that the children were wonderful, and she enjoyed playing games with them despite language barriers.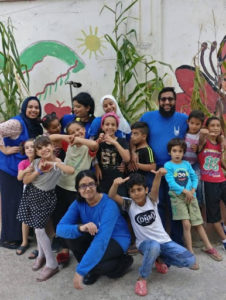 The trip also included a one-day visit to refugee camps in the Beqaa Valley, just a few of over 600 refugee camps in Lebanon. While visiting the refugee camps, two stories were particularly memorable for Shereen.
The first was the particularly difficult circumstance of a widow living with her six children and no aid after her husband died a year before. Having traveled because of her husband's death, she was deemed to not need continued aid, despite her children's ongoing health needs. The situation was particularly difficult because her husband's death while working on a Beirut construction site was captured on video and circulated among relatives, eventually reaching her own children.
The second story offered a hopeful note under difficult circumstances. Yasin (pictured) was able to secure a wheelchair for himself after connecting with a Syrian refugee in Canada through Facebook. Because of that connection, Yasin was then able to help provide wheelchairs for fifteen other refugees in Lebanon.
Yasin's story was particularly interesting to the volunteers from Canada, showing that individual connections can make lasting changes to peoples' lives. The volunteers were encouraged to do their own fundraising targeted at building a new center for youth services, directly involving them in a particular project. The INSPIRE Volunteer Abroad Program provided the opportunity to meet people directly affected by donations to Islamic Relief Canada as well as connecting them to specific projects and other people working to help through various partnerships.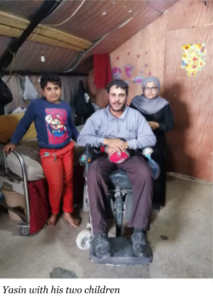 To learn more, please visit the Islamic Relief Canada website. Islamic Relief Canada is a faith-based organization that provides assistance to whoever needs it most, regardless of race, religion, or gender.
Shereen Mir-Jabbar is the Credentialling Officer and Communications Coordinator for the Canadian Alliance of Physiotherapy Regulators. She is also part of TAICEP's Leadership, Chair of Marketing and Communications at TAICEP, and a presenter at the 2019 TAICEP Conference.
In this Edition:
Annual Conference -October 2019 Newsletter
Pre-Conference Workshops and Certificate Program -October 2019 Newsletter
Conference Spotlight -October 2019 Newsletter
Shereen Volunteering in Lebanon -October 2019 Newsletter
TAICEP Featured in PIE News -October 2019 Newsletter
GDN-TAICEP Authentication Mapping Tool -October 2019 Newsletter
Add to your Library -October 2019 Newsletter